---
The Details
CVM, Hucaya Alpaca, & Romney
Fingering to DK, approx 245yds
---
Little Buddy is obsessed with The Mitten. I've read it every night for 6 weeks in a row. And every night, halfway through the book, he says to me "Mommy, I wish I had snow white mittens just like Nicki."
You would think that would have been enough to get me to offer to make them right away, but no. It wasn't. My inspiration was Baba herself.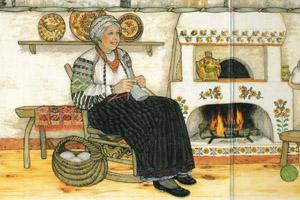 She just pissed me off. I couldn't take that smug, serene look on her face any more. That "look at me, I'm the Fiber Queen!" face just grated on my nerves every single time I read the book. I mean, seriously – who the hell does she think she is? Sitting there, in front of a fire whenever she wants, wearing a handspun shawl. Knitting.That self-satisfied bitch is no better than I am…..and once I realized that I was itching to start a fight with a character in a Hungarian folktale I realized that maybe, just maybe, I haven't had much (or any) time to myself lately. And by spinning some white yarn I could solve two problems at one time.
All the fiber was prepped, carded, and dizzed into roving by me – I think this is one of the first projects where I can defintively say that. I've had other projects with elements I've done from scratch, but this is the first one where I can say "All of this came into my house as a smelly bag of livestock fur and left as something awesome."
I spun the singles and navajo-plied the yarn pre-yarnometer so the finished yarn is not as even as I'd like (it ranges from fingering to DK weight) but it is incredibly soft. It's become my car ride project and has been knitting up far batter than I anticipated. Little Buddy even approves, and is anxiously awaiting his mittens.